How Integration Makes Things Easier
The analytics that power AgMRI become even more powerful when combined with information from the field; as-planted, as-applied and yield maps coupled with AgMRI's insights provide an even deeper understanding across your operation. Comparing the Yield Risk zones in AgMRI with this data enables you to better diagnose and automatically quantify issues like chemical damage and equipment malfunctions. Planter data also helps make the most of full-season insights—from emergence and fertility issues in the spring to pesticide and weather intel through the summer. These insights are especially useful to evaluate hybrid performance. You can also compare the yield map to the field's performance throughout the season to isolate the exact cause for any drop in yield.
To make it simpler to obtain these insights, AgMRI is already integrated with three major players—the MyJohnDeere Operations Center, Climate FieldView, and DTN. These integrations seamlessly import field boundaries, as planted, as applied, and yield maps directly into AgMRI, providing insights without the hassle of uploading tons of files. At IntelinAir, we're working to give you all the information you need quickly and in one place!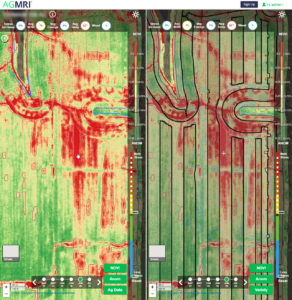 In this field, the grower noticed Yield Risk zones in fairly straight lines. He turned on the variety layer and noticed one of the hybrids seemed more susceptible to what turned out to be physoderma.